Great logo design is not an easy task
It requires a good deal of input from the customer to find a design that speaks to them and their clients.
It requires a clear idea and an understanding of the company's values.
The general process involves formulating the concept, doing initial sketch, finalizing the logo, deciding the theme colors and format.
Communication
This is of utmost importance to guide the project swiftly from initiation to completion. We've heard lots of stories of other agencies and developers leaving clients in limbo. That won't happen here.
Reliability
We have a skilled and committed team of designers and developers that will make sure you are taken care of from start to finish.
Money Back Guarantee
We are so confident that you will love the final product, that we are willing to refund you 100% of the cost if you are not fully satisfied.
We have a design package to fit your needs
Starter
Social Media Sized Versions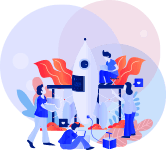 Professional
Social Media Sized Versions
Platimun
Social Media Sized Versions