Web Design and Development in Los Angeles
We guide you from start to finish, so you're not left wondering what's going on.
Communication is a big factor in creative projects and we emphasize that.
Communication
This is of utmost importance to guide the project swiftly from initiation to completion. We've heard lots of stories of other agencies and developers leaving clients in limbo. That won't happen here.
Reliability
We have a skilled and committed team of designers and developers that will make sure you are taken care of from start to finish.
Money Back Guarantee
We are so confident that you will love the final product, that we are willing to refund you 100% of the cost if you are not fully satisfied.
Choose Your Very Best Pricing Plan
Starter
Customized WordPress Website
Easily Edit/Manage Your Site
Template based, customized design
(for quicker delivery)
Color palette selection to match logo colors
Content Management System (i.e. WordPress)
Up to 10 royalty free stock images if necessary (premium images extra)
Featured Product Showcase setup
Future proof, to allow for later addition of Forums and eCommerce
Customized to allow easy updates for staff
1 Hour Webinar Tutorial for your staff
Customized Website Guide for easy maintenance
Weekly status call updates
Money Back Guarantee, if you're not fully satisfied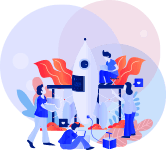 Optimized
Customized WordPress Website
Easily Edit/Manage your Website
Basic On Page SEO optimization for up to 10 pages
Performance Testing & Optimization
Image Loading Optimization
Social Media Integration (i.e. social media feeds on your website)
Up to 5 Lead Capture/Landing Pages (for specific marketing campaigns)
Template based, customized design (for quicker delivery)
Full Mobile & Tablet friendly design
Color palette selection to match logo colors
Content Management System (i.e. WordPress)
Up to 10 royalty free stock images if necessary (premium images extra)
Featured Product Showcase setup
Future proof, to allow for later addition of Forums and eCommerce
Customized to allow easy updates for staff
1 Hour Webinar Tutorial for your staff
Customized Website Guide for easy maintenance
Weekly status call updates
Copy writing or editing for up to 10 pages
Performance Optimization (tweaks to make site load faster)
Image optimization (resize image files for faster loading)
WordFence Security setup (keeps your site protected from hackers)
Money Back Guarantee, if you're not fully satisfied
E-Commerce
Customized WordPress Website
Easily Edit/Manage your Website
Basic On Page SEO optimization for up to 10 pages
Performance Testing & Optimization
Image Loading Optimization
Social Media Integration (i.e. social media feeds on your website)
Lead Capture/Landing Pages (up to 5 pages for specific marketing campaigns)
E-Commerce capability up to 100 products
Template based, customized design (for quicker delivery)
Full Mobile & Tablet friendly design
Color palette selection to match logo colors
Content Management System (i.e. WordPress)
Up to 10 royalty free stock images if necessary (premium images extra)
Featured Product Showcase setup
Future proof, to allow for later addition of Forums and eCommerce
Customized to allow easy updates for staff
1 Hour Webinar Tutorial for your staff
Customized Website Guide for easy maintenance
Weekly status call updates
Copy writing or editing for up to 10 pages
Performance Optimization (tweaks to make site load faster)
Image optimization (resize image files for faster loading)
WordFence Security setup (keeps your site protected from hackers)
Money Back Guarantee, if you're not fully satisfied